This is the post for the October 27, 2014 class meeting.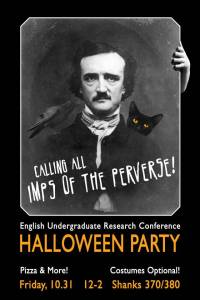 Today we will go over the assignment and schedule for Project 3. At the end of the session, you will write a blog post on the story you have chosen and the research you did for Friday's class.
Course Request Reminder
Please sign up for the courses you want to take during the Spring term.
Halloween Party
Remember that the 2015 English Undergraduate Research Conference's Halloween Party takes place on October 31, from noon to 2 PM in Shanks 370/380. During Friday's class, I will talk about the extra credit option for people who attend.
Details on Project 3
There are three documents to consider today:
I will also talk about what class sessions will generally look like for the rest of the term.
Blog Post
Write a blog post that informally proposes the story you will focus on for your remix, or in the language of Chapter 3 of Writer/Designer, "the what" you will focus on. Include the following information:
Tell us the story you have chosen.
Explain what portion of the story, if relevant.
Give us the bibliographic citations and/or links to at least three sources that you will use as you work on your project. You can use any bibliographic format you like, but be sure there's enough information for me to confirm the sources.
Be sure your post is live by 5 PM Tuesday please.
Homework
Wednesday, 10/29: Read Chapter 4 of Writer/Designer. We will talk about Chapter 3 and 4 in more detail on Wednesday, and we will go over the expectations for your pitch.
Friday, 10/31: We'll spend some time talking about selfies as multimodal texts. Bring your cell phone so you can take selfies in class. Read the Wikipedia entry on Selfies and watch this TEDx video.
---