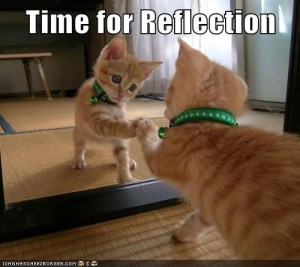 This is the post for the October 20, 2014 class meeting.
Today, Dan will give his presentation, and then we'll spend the rest of our time on the reflection memo for Project 2.
Presentations for Today
Dan N will present on Storify today, since we ran out of time on Friday.
Write Your Reflection Memo and Submit Your Web Essay
Whether you turn in your project today or after the grace period, you still need to write this reflection memo to tell me about your project.
Go to the Assignments tab on the left menu in Scholar.
Choose P2: Interrogate the Interface.
Scroll down to the text box below the headings Submission and Assignment Text. You will write your reflection memo in this box. (Alternately, you can write in a word processor and copy/paste your text into this box.)
Add your memo headers (To, From, Subject, and Date). For your reflection memo, you'll use the following:

Address your memo to me (Traci) and from you (use your name).
Add a subject line that indicates this is your reflection memo and which project it is for.
Add the current date.

Insert a horizontal divider line using the button indicated with the red arrow in the image below:
Introduce your project and tell me the following information:

What is the link to your web essay?
What are your overall goals? What grade have you aimed for? Talk about your goals for the web essay and the presentation.
Tell me anything else you want me to know about your site that you want me to know before I grade it. You might talk about the content, the layout and design, and any screenshots or other images you included.
Tell me anything else that you want me to know about your presentation.
Add a concluding section that sums things up and tells me how well you think you met your goals.

Review the information in your memo.
Agree to the Honor Code by clicking the checkbox at the bottom of the page in Scholar. You cannot finish submitting the project without clicking that checkbox (and it's easy to miss).
Submit your Project, and save a copy of the confirmation and submission ID. If something goes wrong in Scholar, you can contact 4HELP with that information.
Celebrate! You've finished the second project!
Schedule for the Week
On Wednesday and Friday, we will talk about Project 3, which will focus on remixing an existing story (fiction or nonfiction). We will look at several examples in class and think about how we might use some of the tools from Project 2 to remix a story.
---